Game: Cursed Lands Free Download

Defeat the evil lurking in Castle Of N'Mar in this RPG/dating sim game. Recruit your team in any order you want, use the optional social talents to win the battles, play as male or female and fully customize your avatar. Five romance per gender, including the unique Naga Enok and Sylrissa!
About This Game

Recruit. Investigate. Infiltrate.
A mysterious mist has spread over the plains surrounding the Castle of N'Mar, and the mists carry with them the smell of undeath. The blight grows closer to the Empire's borders with every passing day, and they send an expedition to investigate—with disastrous results. The Empire's remaining forces regroup and devise an alternative plan, this time based on concealment and infiltration.
You assume the role of the Empire's Envoy, secretly serving the Grimoire Council. You must assemble a small strike team to investigate what is happening, and put a stop to whatever evil is lurking within the Castle of N'Mar.
With the help of Karen the Amazon Queen and Apolimesho the Archwizard, you'll need to recruit a team of individuals, united by a common goal, from all corners of Aravorn. Dwarves, elves, amazons, desert nomads, and river nagas can all be persuaded to join you.
The game plays like a RPG with an innovative social talent system that lets you take advantage of your enemies' personalities. You can bluff, intimidate, coerce, or reason with your foes to force them to flee. Negotiate a ceasefire to end things peacefully—or take advantage of your foes' weakness after you've lulled them into a false sense of safety. Killing all enemies is no the longer the only option at your disposal. The game also includes a "visual novel mode" for those who want to enjoy the story without playing through the battles.
Cursed Lands offers four bisexual romance options (Nuala the desert nomad, Vaeril the fallen druid, Sylrissa and Enok the nagas) and two same-sex romance options (Leena the amazon and Jasper the pirate).
For the first time in a Winter Wolves game, you can sleep with multiple love interests. Of course, be ready to face any possible consequences! Each love interest's ending leads to two more bonus scenes with "pin-up" CGs for the character you've coupled with.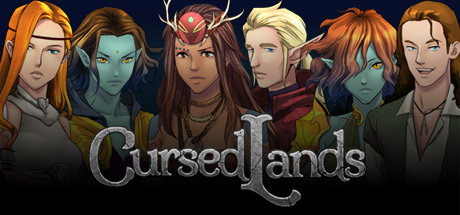 Title: Cursed Lands
Genre: RPG
Developer:
Publisher:
Franchise:
Release Date: 18 May, 2018
Cursed Lands Trailer
System Requirements
Windows
macOS
SteamOS + Linux
Minimum:

OS: Windows XP and newer
Processor: 1Ghz
Memory: 1 GB RAM
Graphics: DirectX or OpenGL compatible card
Storage: 150 MB available space
Minimum:

OS: Mac OS 10.4 and newer
Processor: 1Ghz
Memory: 1 GB RAM
Storage: 150 MB available space
Minimum:

Processor: 1 Ghz
Memory: 1 GB RAM
Storage: 150 MB available space
Free Download Cursed Lands Game
Full Game, latest version. Download for Free!